Matter Storm Design is a small, innovative graphic and web design studio led by Dylan James Goodman. Nestled between the Hudson Valley and the Capital District of upstate New York, we're a fully remote team working with both local and national clients. Since 2015 we've been helping organizations of all kinds grow their business, tell their story and build their online presence.
We look at your business as a whole, ask challenging questions and listen to your answers. Whether it's a brand refresh, e-commerce website or new product launch, we solve problems using strategy, unique insight and thoughtful design, empowering you and your business to be it's best.
We build lasting relationships with our clients.
We know how tough running a business can be and the hurdles you're facing. Through collaboration, hard work and a dash of humor, we're here as your trusted co-pilot. Because, in the end, your success is our success.
As idealistic as it may sound, we believe good design can inspire positive change and that business can play a role in making good things happen. We love working with like-minded, passionate businesses who are invested in creating something meaningful.
When I was 4, my grandfather gave me the classic David Macaulay book, "The Way Things Work". That, plus Richard Scarry's books about "things that go" and "what people do" solidified my already innate desire to learn how everything worked and how it could be improved. Getting to the root of things often required disassembly. But that also meant everything had to be rebuilt. You can just imagine how happy this made my mother. I've been figuring out how things work, how they can be improved and how to build them myself, ever since. This and my love of design grew into Matter Storm Design where I get to combine my inquisitive nature, problem solving logic and creativity to find unique solutions.
When I'm not creating thoughtful design I can be found listening to silly podcasts, cooking for family, making things with my hands, maintaining an 1880's home or talking to my plants.
We believe that small businesses like ours will set the standard for the future. By incorporating social, environmental and technological responsibility into how we run our business and how we help yours, we're taking the necessary steps towards an equitable and sustainable future.
We advocate for justice for all people. We acknowledge that for a more just and equitable world for BIPOC, LGBTQIA+ and all marginalized people and communities, we need to take an active and continual role in making that possible.
We humbly acknowledge the land we occupy is the ancestral and unceded lands of the Stockbridge-Munsee Band of the Mohican Nation originally called the Muh-he-con-neok which can translate to – the People of the Waters That are Never Still.
We're continually working to minimize and offset our environmental impact. Through a number of different and evolving approaches, we're working to help stem the tide of climate change.
Slide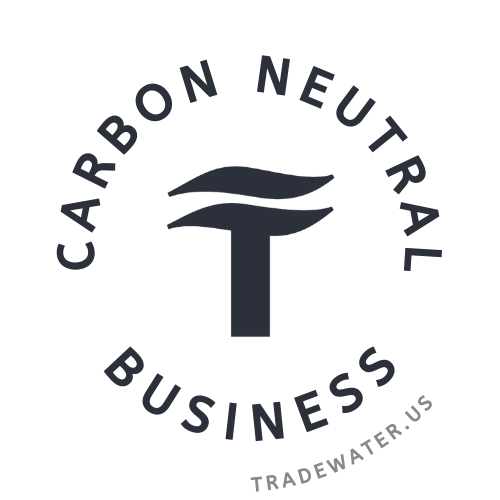 Offsetting what we can't reduce
We are a Carbon Neutral business and a part of Tradewater's Carbon Neutral Collective. Being carbon neutral means that all of the remaining greenhouse gas emissions from our business activities, that we haven't been able to reduce in the first place, are zero.
Slide
Donating to make a difference
We donate 1% to environmental and preservation organizations working to stem the tide of climate change and remove carbon from the environment.
Slide
Planting a forest for our future
Slide
Harnessing the power of the sun
Since 2023 our office is powered by up to 100% local community solar electricity.
We proudly support and seek out small, independent and ethical software providers, services, products and businesses. We prioritize certified B-Corps when we can't shop small or local and aim to do as much banking as possible using local or ethical financial institutions.

We take an ethical and privacy responsible approach when selecting the software and services we use, in how we run our business and how we help you with yours.